April 17, 2017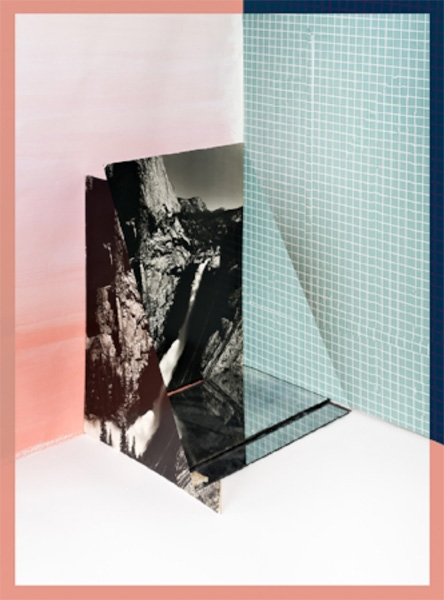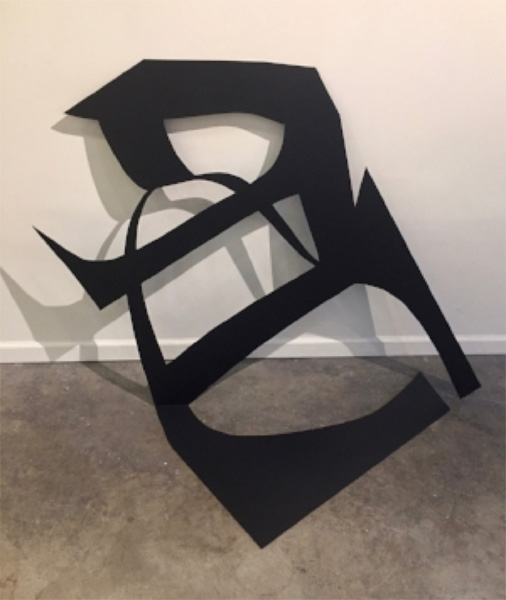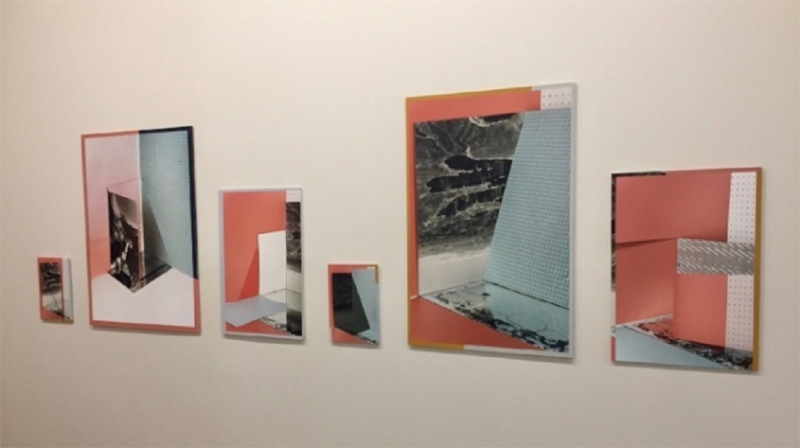 Phillip Maisel/Maggie Preston and Black Crown Gallery
Black Crown Gallery is a marvel. Located on a quiet side street in downtown Oakland, its tiny space consists of a long, high ceilinged and very narrow room with the requisite white walls. A small table at the entrance serves as the 'office.'
But how much space is really necessary for a gallery to serve its function well? Both Bass & Reiner and Jack Fischer's satellite gallery at Minnesota Street Project (San Francisco's new gallery mall) are similarly petite. Margaret Tedesco's exhibitions, staged compactly in what appears to be the living room of her SF apartment (Second Floor Projects), have long been admired.
Size isn't everything. And in Surface Tension, Black Crown's current exhibition, the gallery serves as a serendipitous frame for the work of two artists, both of whom are continually expanding from their photographic roots into new experimental territory. Phillip Maisel's sophisticated fool-the-eye compositions of color and texture, reflection and illusion are presented in groups of varying sizes (both the images themselves, and the groupings) ranged across the gallery's walls. Three of Maggie Preston's laser-cut steel sculptures rest on the concrete floor, punctuating the space like sharp but cryptic black exclamations. Preston's startlingly eccentric pieces (and the photographs from which they are derived; one of those hangs behind the gallery desk) have their point of origin in a black cardboard template the artist found in a pile of scraps at a 'creative reuse' center. To her photographer's eye, the template suggested the arched frames of picture albums, though in actual fact it turns out to be an aid for storyboarding—its shapes used to lay out the cells that chart a narrative sequence.
Twisted and folded, doubled or stretched, the cardboard's elongated rectangles splayed out into sharp triangular points suggest nothing so much as the space between: that which is left behind, conjured into another life through Preston's manipulations. She photographs their bent shapes against a stark white background; only a hint of shadows remains to suggest their dimensionality. In contrast, the sculptures-- like some of Anthony Caro's work dating from the '6os and '70s-- assert their physical presence even as they fractiously seem to deny it, scrappy limbs extended towards wall or floor, turning at unexpected moments.
These are the latest iteration of Preston's ongoing (oxymoronic) project of what she describes as 'photographic sculpture.' To make them, she uses a computer program to trace the black form's outline on a picture, then gives the resulting file to her fabricator. Their entirely anti-narrative titles are the sequences of four numbers generated by the camera's memory card.
Which is funny, since telling stories has traditionally been one of photography's main jobs. Still, the ubiquity of cameras in contemporary life and the concomitant onslaught of images everywhere, all the time, makes the kind of work featured in Surface Tension—well, inevitable. Work that makes us look for much longer than the second we think it takes to absorb what an image has to say.
For the last several years, Phil Maisel has been perfecting his singularly nonlinear approach to still life, layering images and sheets of paper or board against a wall in a shallow space and taking a picture. Here, such arrangements serve as a point of departure; the finished piece--simultaneously collage, sculpture, and photography-- sometimes includes other elements, such as a shiny piece of neutral density filter, slender hanging chains, or parts cut and bent to yield dimensionality. Most diabolically, in that the brain strains to keep up and figure out what is really going on, some pairs of photos trade parts, furthering a complicated set of visual illusions. In For your "open" 2677 and 2682 (Maisel uses numbers too), careful examination reveals that a large trapezoid cut from the center of each has been inserted into the other. There are three such pairings in the show, but they aren't next to each other.
Shadows are sometimes part of the image and sometimes real, cast by a cut and raised curve. Works of different sizes are hung so that their bottom edges are perfectly aligned with each other, as if standing on an invisible ledge. Confused yet? Good.
The palette of this body of work has a retro feel to it, though pinning down the precise time frame of Maisel's exquisitely-admixed hues is tough. Triangles and trapezoids of salmon and teal (or is it turquoise?) with accents of mustard slyly evoke everything from Art Deco to the fashion crimes of the '90s.
Both Maisel and Preston are MFA graduates from California College of the Arts, where one of the gallery co-directors, artist Christopher Nickel, was the photo studio manager for some time before attending grad school at Stanford. The other co-director, Chrissy Cano, graduated from CCA's Visual Studies program in 2013. Shows since Black Crown's inception last fall have presented the work of recent MFAs from CCA as well as from Stanford and UC Berkeley. Much of what has been shown (four out of five artists so far) has consisted of explorations out at the edge of photography or its influence/ inspiration; Elizabeth Moran, for instance, makes 'abstract cameraless images that may or may not document evidence of paranormal presences,' and Lauren Ashley Toomer's drawings are based on various photographic sources such as crime scene pictures or images from anatomical dissection labs. Tanja Geis' large scale cyanotypes use this unusual photographic printing process to generate haunting blue and white images of ecological devastation. And Kate Nichols' paintings incorporating silver nanoparticles as well as photograms are described as investigations of 'the interrelationship between vision, perception and light.'
Every show has been markedly different, though all have embodied both elegance and intelligence. With gratitude, I note that the press releases are both revelatory and tantalizing. And, finally, if you are wondering, as I did, about the gallery's name, it honors the Black-crowned Night Herons that have been long-time residents of the area, roosting in trees around downtown. Drawn in profile, one perches above the gallery's name on their logo, complete with the species' distinctive glowing red eye.
As an artist, critic and devoted Oaklander, I'm looking forward to whatever comes next.