September 25, 2015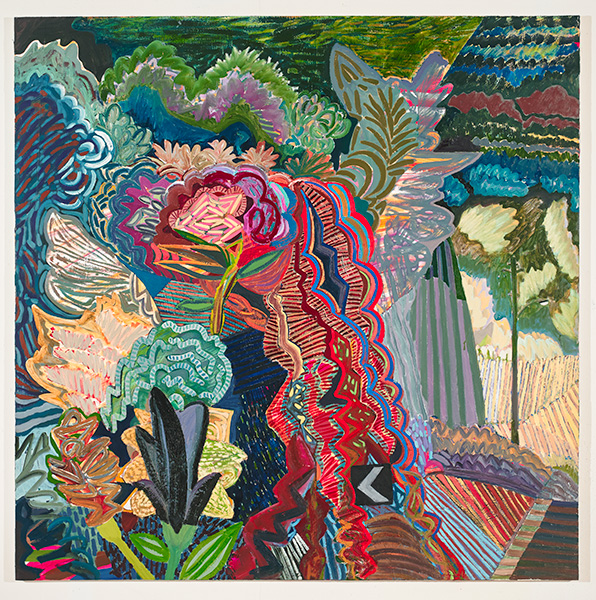 Karla Wozniak's 2014 60-by-60-inch oil painting "Kudzu Hillside" is on exhibit in "Karla Wozniak: The Valley Electric" through Oct. 24 at Gregory Lind Gallery.
Credit: Bruce Cole
Karla Wozniak paintings a colorful hybrid of Bay Area, South
Karla Wozniak sings the valley electric. The paintings in "Karla Wozniak: The Valley Electric" at Gregory Lind Gallery reflect the lush landscapes and history of the Knoxville, Tenn., area — where the artist lived for the past five years, teaching at the University of Tennessee.
"It's actually a temporal rain forest," Wozniak (no relation to Apple co-founder Steve Wozniak) says of the everyday environment that led to her wildly colorful works. "It's the kind of place where you can hear vines growing at night. It's almost like a jungle in a way, very different from here. I became interested in the density of forest and the figural forms I'd see by the side of the road — trees strangled by kudzu and vines. I started to think about natural forms as a place for abstraction and using that as a starting-off point."
Yet the exuberant imagery also has deep roots. The riot of color in paintings like "Kudzu Hillside" and "Garland Hill" seems touched by the antic coloration and freewheeling spirit of Bay Area makers. "I was thinking about the Bay Area and Bay Area painting history, artists like Jess and Richard Diebenkorn, whose work embraced a very vibrant palette, and also psychedelia," says the Berkeley native, 37, who recently moved back to the East Bay for a tenure-track position at California College of the Arts.
Stay tuned for more volts from the blue. "I'm interested to see how being in the Bay Area will change my work," she says. "Everything is wide open."
— Kimberly Chun