April 14, 2016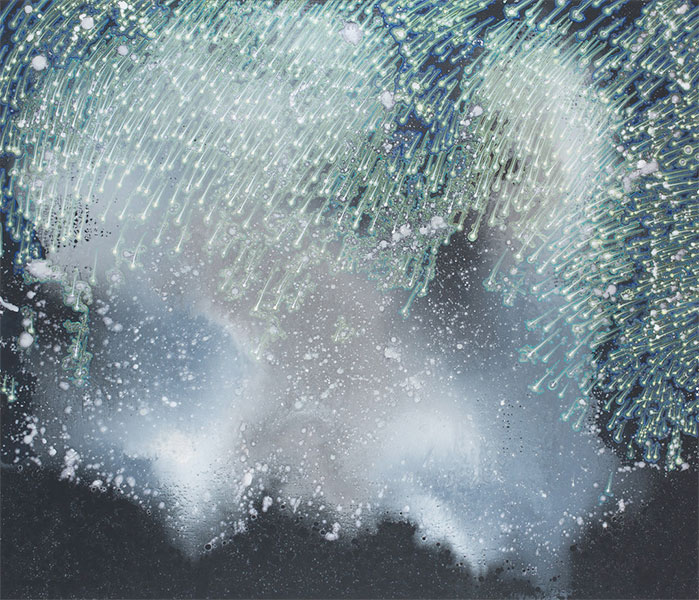 Barbara Takenaga's "Night Painting (JFM)" (2016), in a show of her celestial paintings that range from laptop-size works to nearly mural-scale ones.
What to See in New York Art Galleries This Week:
Barbara Takenaga, 'Waiting in the Sky'
by Ken Johnson
The celestial sublime is Barbara Takenaga's thing. In paintings ranging fromthe size of a laptop to nearly mural-scale, she represents visions of night skies in which meteor showers, gaseous explosions and other sorts of astronomical phenomena are happening. These displays, however, are not viewed through the technologically assisted eyes of a scientist, but through the ecstatic, possibly pharmaceutically aided perceptions of a hippie dreamer. The title of her exhilarating show at DC Moore, "Waiting in the Sky," lifted from David Bowie's great song of cosmic yearning, "Starman," is apt.
Ms. Takenaga's illusions of deep space are embodied in deftly and sensuously applied paint. Pearlescent blobs represent luminous astral bodies; fields of fine colored lines suggest waves of electromagnetic radiation; swirly puddles of poured paint read as galactic soup. In "Undertow," which is over 11 feet wide, star blobs are strung together into beaded curtains that flow in swooping paisley forms around areas of misty space.
In two cases, easel-size paintings are attached to big sheets of printed wallpaper bearing patterns that extend the imagery of the canvases into viewer-enveloping expanses. In Ms. Takenaga's metaphorically thrilling works, the sky is a turbulent border between the knowable and the unknowable, whether conceived in the far reaches of the mind, in the depths of outer space or in the sumptuous surfaces of the paintings themselves.