July 2018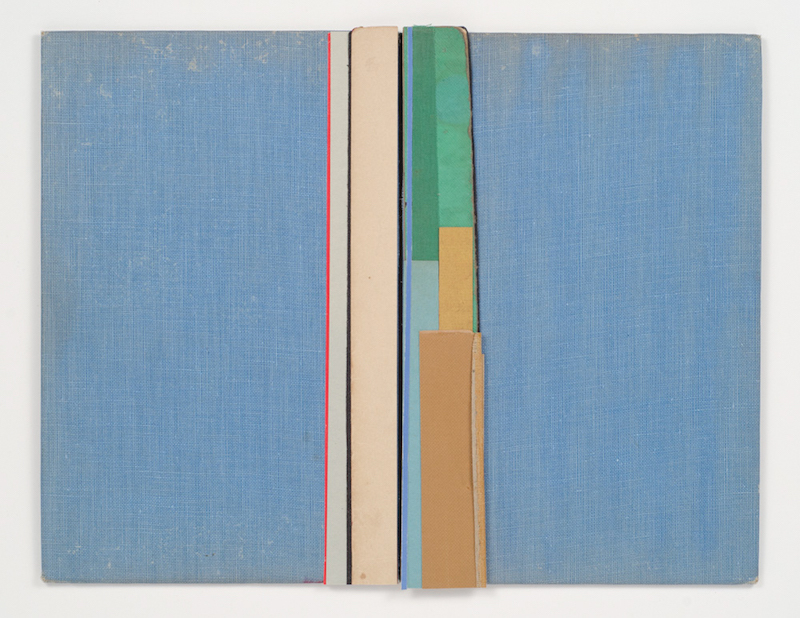 Chris Corales, Students of the Sea, 2014, found paper, found bookbinding cloth, adhesive, 8 1/4 x 10 3/4".
Chris Corales
Fleisher/Ollman Gallery
1216 Arch Street 5A
June 7 - August 24
In his 2001 book Papier Machine, Jacques Derrida charts a cultural hierarchy of paper's many purposes, from "priceless archive, the body of an irreplaceable copy, a letter or painting . . . as support or backing for printing" to, finally, the "throwaway object, the abjection of litter." Chris Corales's magpie practice restoratively collages found paper, cardboard, and related detritus into spare, abstract, yet allusive compositions that both reflect and transcend such teleological categories.
Many of the modestly sized works in this concise memorial exhibition, "A Passer-By in His Own Moment," evoke books (and, by extension, concepts of reading, writing, and archiving) through visual and material cues. Students of the Sea (all works cited, 2014), a rectangle of found paper carefully bound in worn, toothy cerulean cloth, imitates a trade hardcover splayed facedown. Brown, green, and pale-pink slices of scavenged paper, pasted vertically down the work's center, create a low-relief illusion of a book's spine. Given its title and handmade aesthetic, a viewer might imagine that this book contains sketches of the ocean. In the pared-down Imitation of Home Series (5), an isosceles sliver of frayed, marbled bookbinding cloth connects two sheets of soft, gray paper torn and stained with age—a nod to their status as trash even while made new—to roughly resemble a book's facing pages. The cloth's edge hangs teasingly off part of the page as if it could be peeled back with a fingernail to reveal further layers of information beneath. Home Stack, an off-kilter grid of four similar collages, includes tipped-in sheets with black borders, suggesting illustration plates whose content has been entirely obscured by glued-down, oxidized paper. Corales's works, with their yearnful lack of text and image, embrace the dwindling physicality of a medium here playfully recast as a space for narrative projection.
— Bea Huff Hunter