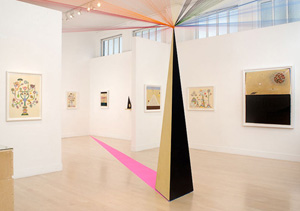 Variegated Radiant Dream Plot
featuring David Dupuis, Chris Duncan
and Jovi Schnell
January 25 - February 25, 2006
Variegated Radiant Dream Plot features the works of Bay Area artists Chris Duncan and Jovi Schnell, and New York artist David Dupuis. The artists' fantastical realms reflect the symbolic cycles and forces inherent in ostensibly simple elemental life forms, revealing poetic and complex possibilities.
Chris Duncan's laboriously rendered works on paper and intricate string sculptures reflect a preoccupation with process, transformation, and the essential nature of form and structure. In her Tree of Life series, Jovi Schnell's gouache paintings on paper with stamped collage represent whimsical departures from universal symbols. From elementary building blocks, her works fluidly branch and twist into rotational and interlocking geometries fusing creatures, botanicals, and devices. The work of David Dupuis illustrates a strange terrain oozing with menace and decay, in which elemental forms quiver, ooze, procreate, and undergo constant shifts in persona and function.
Chris Duncan holds a BFA from the California College of Arts and Crafts, and is the co-creator of the art-based zine project Hot and Cold. His recent exhibitions include the Yerba Buena Center for the Arts, San Francisco; Allston Skirt and Samson Projects, both in Boston; Lump Gallery, Raleigh, North Carolina, and Nakaochia Gallery, Tokyo. Duncan lives and works in Oakland.
Jovi Schnell's art has been exhibited in various galleries and institutions, including The Derek Eller Gallery in New York; The Stedelijk Bureau Museum in Amsterdam; The Brooklyn Museum; and The Luggage Store Gallery in San Francisco. Her work been awarded various fellowships, as well as a Pollock-Krasner grant for painting. Schnell lives and works in San Francisco and teaches at the San Francisco Art Institute and the California College of Art.
David Dupuis has had solo exhibitions at the Derek Eller Gallery, New York; and Schmidt Contemporary Art, Los Angeles. His group exhibitions include Waterworks at the Nordic Ackvarelle Museet in Sweden. Dupuis' distinctions include a grant from the Foundation for Contemporary Arts, as well as public collections at the San Francisco Museum of Modern Art and the New Museum, New York. Dupuis lives and works in New York.
EXHIBITION IMAGES - CLICK FOR ENLARGED VIEW