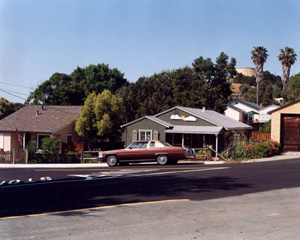 Daniel Cheek
Cadillac, Partly Sunny House and Oil Storage, 2006
Daniel Turner
Genesis 5250, 2006
Daniel Cheek
Benicia/Martinez California
Photographs
Daniel Turner
The Chimney Sweep's Dream
Painting & Sculpture
July 19 – August 19, 2006
Gregory Lind Gallery is proud to feature two new exhibitions that explore the ramifications of consumption and industrialization in the era of globalization: Daniel Cheek's Benicia/Martinez California – Photographs, and Daniel Turner's The Chimney Sweep's Dream – Painting & Sculpture.
Daniel Cheek's series of photographs Benicia/Martinez California conflates the lulls of suburban domesticity with the increasing amount of industry in once-sleepy cities like Benicia and Martinez, in Northern California. Benicia and Martinez are home to a number of oil refineries and chemical plants, many of which have been issued major health and environmental citations. In photographs such as "Cadillac, Partly Sunny House and Oil Storage," a car parked outside a house evokes the sentiment of Anytown, USA—but an oil storage tank that obtrudes in intimate proximity behind a cluster of trees adds an eerie context to this ostensibly rote image of suburban life.
Daniel Cheek was born in Detroit, MI and received his BFA from the Academy of Art College, San Francisco. His past exhibitions include the Academy of Art College, Sutter Street Gallery, San Francisco; Northeastern Nevada Museum, Elko, 2006; and Nevada Museum of Art, Reno, 2006. Cheek lives in Oakland and works in San Francisco.
In his new exhibition, The Chimney Sweep's Dream, Daniel Turner transmutes the tropes of nautical disaster and industrialization into eloquent mixed media depictions of catastrophe that induce both seduction and fear. Turner's titular piece, "The Chimney Sweep's Dream," is a curious collage composed of motor oil, gas tanks, and tar—a mystical omen that conflates the role of the artist with that of the industrialist.
Daniel Turner was born in Portsmouth, VA and received his BFA in painting from the San Francisco Art Institute. He has been in numerous solo and group exhibitions, including the Chrysler Museum of Art, Norfolk, VA; Hermitage Foundation Museum, Norfolk, VA; Contemporary Art Center, Virginia Beach, VA; Rawls Museum Arts, Courtland, VA; Soma Gallery, San Francisco, CA; and Walter and McBean Gallery, San Francisco, CA. Turner is the recipient of a Virginia Museum of Fine Arts Fellowship Award for both 2004 and 2005. He currently lives and works in San Francisco.
EXHIBITION IMAGES - CLICK FOR ENLARGED VIEW