July 9, 2011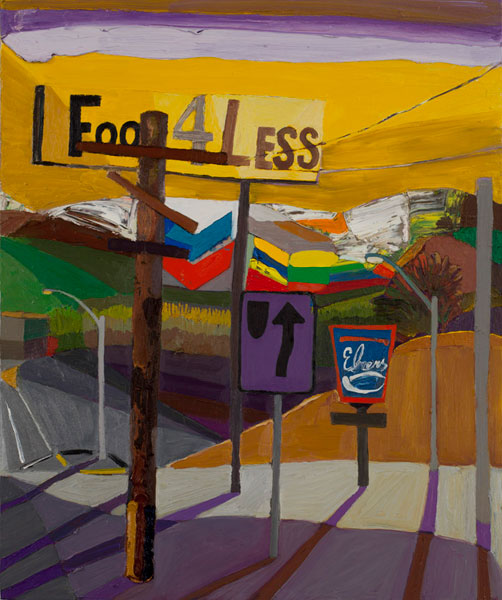 Karla Wozniak's 'Food 4 Less I-5, OR'
Karla Wozniak/Bronx Museum of Art
Bronx Calling: The First AIM Biennial Taking AIM

For three decades, the Bronx Museum of the Arts' prestigious residency program Artist in the Marketplace (AIM), in which artists work with art-world professionals, has assisted and showcased emerging talent in the greater New York area. In 2009, AIM went global, and since then has included artists from Brazil, Egypt, Senegal, South Africa and Venezuela. "Taking AIM," a small historical view of AIM, and "Bronx Calling: The First AIM Biennial," a joint exhibition featuring the work of the 72 participants in the 2010-11 program, celebrate AIM's 30th anniversary.
Establishing relationships among artists, critics, curators, collectors and dealers, AIM has given a big leg up to young artists. Successful past participants include Polly Apfelbaum, Amy Cutler and Glenn Ligon. Long before blue-chip galleries were searching M.F.A. programs for the next prodigy, AIM was turning unknowns into art stars. AIM has prided itself on its catholic tastes and practical seminars in real-world issues, such as gallery representation and grant writing. But let's face it: In the art world, the road to success is often more about whom, not what, you know.
"Bronx Calling," which presents an array of media, painting, sculpture, photography, video and installation art, as well as "contemporary issues," is an exhibition without a compass. It is a showcase, inclusive yet lackluster, in which the powers that be were seemingly more concerned with giving everyone a say than with having something to say about what matters in art.
Among the stronger paintings here (most are conceptual or, photo-based, dreadfully illustrative) are uninspired geometric abstractions by Calvin Burton and Jennifer Sanchez, and landscapes by promising painters Karla Wozniak and Meghan Wilbar. Standouts in sculpture include Veronica Frenning's vitrine filled with clay fragments that resemble tools, shards, fossils and machine parts from a lost civilization; Alan Ruiz's black, skeletal "Necker Screen" (2011); and Romy Scheroder's surreal, anthropomorphic distortions of vintage wood chairs. Best in show, however, goes to Julia Oldham (b. 1979), whose spare, affecting video "Antimatter Twin" (2011), recalling Ingmar Bergman's "Persona," explores the contemplation of self.
Despite AIM's somewhat aimless selection and broad inclusion of artists with varying degrees of talent, "Bronx Calling" demonstrates that a few worthwhile candidates continue to make the cut.