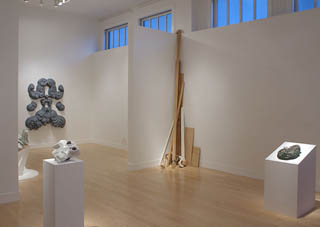 A General Record of Things Breaking Down
Installation view
Uneasiness is Twofold, 2005
Foam, Glue, Plaster and Latex Paint
98 x 40 x 49 in.
For the Empathy of Others, 2005
Wood, Foam Core, Wire, Plaster, and Paint
71 x 46 x 42 in.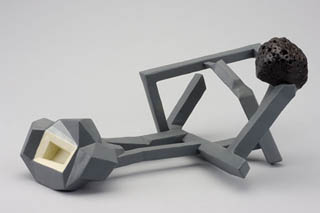 An Untitled Cataclysm, 2005
Foam Core, Hot Glue, Magic Sculpt, and Latex Paint
11 x 17 x 13 in.

Interview with Christian Maychack
By Caryn Coleman
Aug 29, 2007
San Francisco-based Christian Maychack is an artist I met on the art fair circuit (New York, Miami, etc.) over the past couple of years. During these fairs, which have proven to be such a valuable resource in meeting fantastic people, I've become familiar with both the artist and his anthropomorphic sculptures that the San Francisco Bay Guardian said "misbehave in ways that leave their viewers with a sense that the laws of physics are just aching to be broken." Maychack's sculptures can be large or smale in scale, sometimes site-specific, that challenge the "normative relationships between object, space, and spectator."
Christian Maychack recieved his MFA in Studio Arts from San Francisco State University. In May he held the solo exhibition A General Record of Things Breaking Down at Gregory Lind Gallery in San Francisco. Other recent solo exhibitions include All the Slow Forces at Jeff Bailey Gallery in New York (2006) and From an Ocean of Subtle Collapse at Sirius Art Center in Cobh, Ireland (2005). His work was also included in the 2006 California Biennial at the Orange County Museum of Art. Maychack is currently working on a permanent site-specific sculpture for UCSF at Mission Bay and will be doing a six-month residency at the MacDowell Colony in New Hampshire. Born in New York he currently lives/works in San Francisco California.
Caryn Coleman: Your sculptures are incorporated into and/or around architecture - how much time do you spend getting the feel of the space in which you'll be placing your work?
Christian Maychack: Generally I make multiple visits to the space, searching for an area that is structurally interesting and that I think I can use in a surprising way. Once I've committed, I take detailed measurements that I bring back to the studio and create a rough mock up of the architectural element that I want to work with.
This system is far from perfect. I often change my mind mid-stream, when the piece suddenly evolves to take over an adjacent part of the gallery. This can be more of a challenge when the space is not a quick drive away.
CC: Your work has been placed by or on stairs, walls, ceilings, or they're free-standing - what has presented the biggest challenge?
CM: The closer the space is to a "white box" the more of a test the project becomes. More specifically, I have had the most challenging time working with Gregory Lind's space. I have been working with his gallery in San Francisco for four years now and each time I do something with the space it becomes harder to look at it with fresh eyes. That said, I feel like the pieces I do for his space push me into new realms because of their difficulty. Maybe because I have to try so hard to look the gallery anew, it's forcing me to look at myself anew as well.
CC: Is every piece site-specific?
CM: No, I like to make unattached object as well, creating abstract narratives between them and the site-specific works. Each methods of working leads to new ideas in the other.
I also think I need the balance it provides. I like to be in my studio making, and if I had to constantly make proposals and hustle to get spaces to make site-specific work, I think it would lose the excitement and I might start repeating myself too much.
CC: You use lots of interesting materials to create your sculptures such as hot glue, latex paint, foam core, chickent wire. Can you explain your creating process a bit? Do you sketch out the sculptures beforehand?
CM: I am surprised when people call my materials interesting. I don't think of them as that odd, but I get that response a lot. I think it's mostly because when you look at my sculptures they don't give much information as to what they are made of. Most people just assume that I work in wood and plaster.
Up until recently most of my material usage has evolved from what's at hand. I went to school for printmaking and painting and never took a sculpture class, so a lot of what I've learned has been from jobs doing building maintenance and art install at museums. It's just been in the past few years that I've started to pick up more tricks and technical skills from studio mates, other sculptors, and from just looking.
My creative process involves an initial idea that I must commit myself to, but not get too attached to as a final outcome. I might do some thumbnail sketches but nothing too elaborate, so that the idea doesn't become to locked and static in my mind. I need the pieces to evolve, incorporating new ideas in to the making and allowing mistakes and my own shortcomings to be absorbed into the whole. Often in the past, my least successful projects are the ones in which the finished piece did not stray from its original conception.
CC: How do you expect or desire the viewer to react and navigate the space around your objects?
CM: When I am surveying a location I spend a great deal of time considering how a viewer might move through the space. From this I construct an piece that uses the viewer's movement to my advantage. What I often want their experience to be is one of subtle surprise, using transitions from the architectural to the organic to achieve this. I like the visual and conceptual double-take that forces a person to reconsider the space around them. The art that I have been most drawn to and moved by in my life has had a large component of surprise and I attempt to give viewers a similar experience.
CC: Your recent 2007 show at Gregory Lind Gallery (San Francisco) was titled A General Record of Things Breaking Down. The release for that show has you saying, "I'm interested in taking these highly structured things and making them seem as if they're broken down or collapsing on themselves, but growing at the same time." I find this really interesting...can you explain a bit more what your intentions were with this?
CM: I've always liked the fact that no change or growth can happen without the breakdown of some conceptual or physical structure. We often think in terms of one or the other, but when I watch what happens in the natural world, I don't find anything that simple. I have a pretty decent collection of cacti and succulents that I appreciate for this reason. I watch them propagate by accident, growing from broken sections of themselves. Six months ago I moved and in doing so my favorite cactus had a few major breaks. Up until that point it was doing well but growing slowly. Now, I can't believe how quickly it's growing. I think of the architectural growths that I make in a similar way, they are just waiting for that physical and conceptual break to begin their transformations.
CC: Can you let us in on what you're doing for the permanent, site-specific piece at UCSF's Mission Bay Campus this summer?
CM: At the moment the only thing that this project involves is fun with fire marshals. This project has been in the planning and proposal stage for over two years, but hopefully I will be able to convince them that the piece poses no fire hazard and start working on it this winter. This process will definitely give me pause the next time that I am asked to propose a project that is subjected to the public.
CC: I know you have a busy rest of 2007 - you'll be in Europe, a residency, and moving to New York. What's up and what's next for you?
CM: Yes, I'm really excited about traveling and then my residency at the MacDowell Colony in New Hampshire. Unfortunately, my plans for a six month jaunt in New York are on hold due to the UCSF project. Right now what I'm most looking forward to is the time MacDowell will give me to reflect on a busy past few years and start a new body of work. I have some ideas and I can't wait to see how they are going to evolve.