September, 2012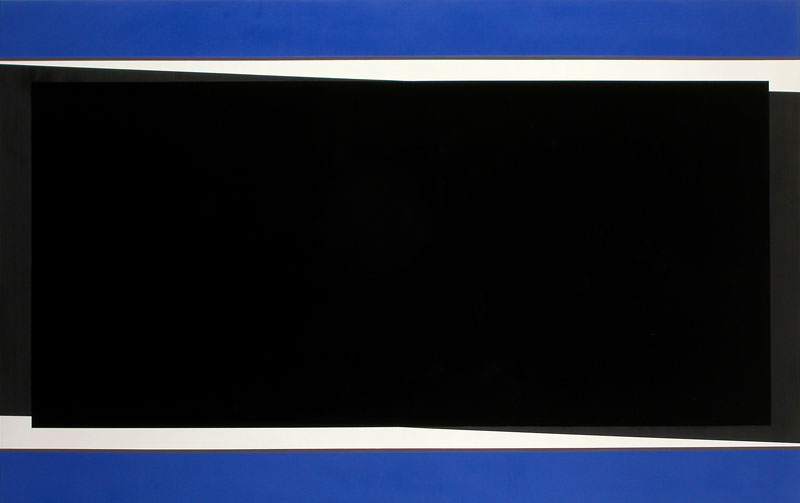 Redacted, 2012
oil on wood, 35 x 55 inches
Color, loud & quiet.
Two shows in San Francisco currently offer viewers an opportunity to engage with dynamic paintings whose concerns of space and light encourage us to move about as we decode each work. Artists Laura Paulini and Don Voisine demonstrate color"s interplay with ambient light in ground-shifting compositions, panels reliant on interaction to activate their whole ideas.
... at Gregory Lind Gallery, Don Voisine imparts an element of chaos into his otherwise controlled paintings. Voisine lists in his artist statement ideas about architecture, variable reduction, limits, and expectation to frame his work. He states that "years ago [he] began working with imagery derived from floor plans," but has since strayed from the idea of place and now focuses on geometries. In this assembly of new work his paintings demonstrate their roots and much more.
Hard-edge painting on crafted wood surfaces with edges raw, Voisine"s paintings announce themselves as concourses of contrast. Striking colors frame large fields of varying blacks: matte voids, glossy shifts, and hints of darkest-grey. Whites and cremes delineate the darkness, becoming the key player to forming his geometries. We're never quite sure whether our position as the viewer is observing space from above or head-on. Nonetheless, as we shift our position throughout the gallery, Voisine"s geometries open up, an inevitable interaction as the congregation of so many panels ensure entrance to their fields of silence.
For instance, in "Double Yellow Line" creme triangles navigate our focus from afar, straight down a horizon - Voisine standing us directly in the middle of a hot and radiating desert road - convincing us that what we see is orderly until we take a shift and the road pulls a hard right, crafted through his play of sheen. Many of his works suggest expanse; however, in efforts such as "Redacted" we begin to question if what we're looking at is the deletion of space, redactions hidden behind large black scrims. The quiet sensibility becomes playfully unsettling, a child turning the dimly lit corners of a foreign basement where each niche reveals surprise - we feel this experience seeking the treasures buried amongst "Sprockets".
It's hard not to equate these paintings with place, if only because Voisine shapes his space so well. His balance of achromatic elements and stark color is sound, and as a result, their organization easily suggests these as moments in naked rooms, alone with ourselves, split between the space that surrounds us and the space that creates us. Perhaps this is something that the artist will never be able to move beyond, that foursquare horizontal/vertical forms in high contrast remind us of those basements at dusk. Regardless, Voisine's compositions are wholly pleasing and will appeal to anyone with a serious interest in non-objective artwork, their barely perceptible textures of matte paint, lush and velvety, suggesting there is plenty more to be imagined in the post-painterly world. Moreover, that there's more to imagine in the light than there is in the dark.