May 24, 2013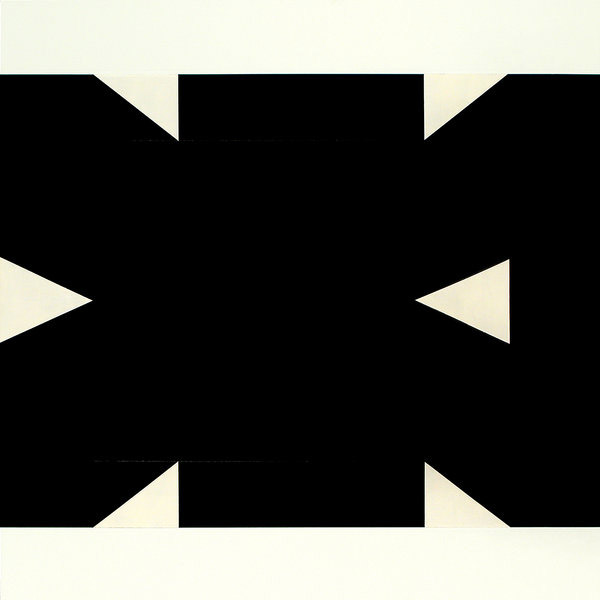 Dark geometries enacting dramas of texture and shape:
'View,' an oil on wood panel by Don Voisine, at McKenzie Fine Art.
ART IN REVIEW: Don Voisine
by ROBERTA SMITH
McKenzie Fine Art Inc.
55 Orchard Street, near Grand Street, Lower East Side
Through June 9
Don Voisine has developed his brand of highly synthetic abstraction for more than 30 years, in the process illuminating a rich fusion of Modernist sources with a meticulous exploration of the mechanics of painting. Mr. Voisine's eighth New York solo show in 33 years makes an especially good case for his dedication. Working, as usual, in oil on wood and in fairly modest sizes, he presents black geometric shapes silhouetted against white or cream and bordered horizontally or vertically (but rarely both) by bands and narrow stripes of color.
The black shapes summon precedents from Kazimir Malevich to Ad Reinhardt to Al Held to Mel Bochner, and seem at first to be single, monolithic. Then you notice that there are two or more of them, tightly superimposed and differentiated by their finishes, matte or shiny. Soon other irregularities and details come into focus. The underlying shape may dominate, imposing its outline on the upper one.
For example, in 'Rook,' the triangular indentations of a matte double X ' bounded above and below by bands of orange edged (but not completely) in green-gray ' cut ever so slightly into the shiny rectangle applied on top of it. Sometimes a kind of prying action occurs, as in 'Dub Step,' where horizontal bands of matte black slide between the legs of a shiny X.
When Mr. Voisine repeats his compositions, as in 'Tumble' and 'Till,' he verges on academic predictability. Elsewhere, he loosens his tactics in promising ways, most notably in the pale borders and feigned symmetry of 'View,' and in 'Peg.' One of the few works here to avoid diagonals completely, 'Peg' reduces the white area to a series of small squares that invade, touch or avoid a superimposed black square of decidedly purple cast.
Within their prosceniumlike borders, Mr. Voisine's dark geometries enact telling dramas of texture, shape, symmetry, color, edge and light ' in effect, all of painting's grand illusions ' especially when given your undivided attention.