January 23, 2014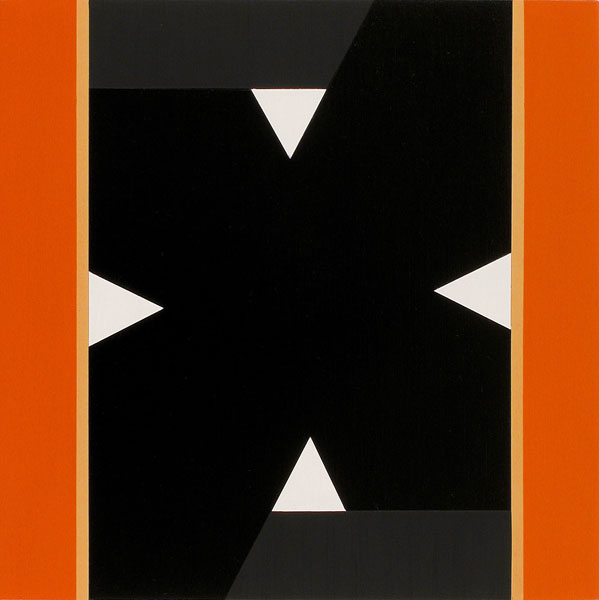 Don Voisine's 'Step Up,' part of the 'Simplest Means' exhibition at Jeff Bailey Gallery.
'Simplest Means'
By Ken Johnson
Jeff Bailey Gallery
625 West 27th Street, Chelsea
Through Feb. 15
'Simplest Means' presents works by eight contemporary artists along with a selection of useful objects produced by Shakers, mostly in the 19th century. The intriguing connection is a predilection for simplicity and transparency, which, for the Shakers, was a matter of form following function with extraordinary grace. Examples include an intricately constructed wooden chip fork; a finely woven straw bonnet; a clothing iron, called a 'Tailor's Goose,' with a spirally twisted handle wrought from a single piece of iron; and a silk scarf in a tightly woven plaid pattern with iridescent optical effects.
The artists' works include Don Voisine's geometric compositions painted with loving precision and in dialogue with Modernists like Mondrian and Ad Reinhardt; Michelle Grabner's small paintings of gingham patterns, which play on semiotics of rusticity; and cartoonish colored pencil drawings of blobby shapes radiating from rectilinear forms by Cary Smith. Closer to Shaker sensibility if not style are a dusky painting of a broom and dustpan by Joshua Marsh; a black, white and red checkerboard pattern painted on paper by Chie Fueki; and loops and slender lengths of wood carved with impressive finesse by Seth Koen.
Differences between the two groups are as interesting as the affinities. Utopian mystics, the Shakers practiced celibacy and a kind of imagination-altering dance. As designers and object makers, they didn't try to distinguish themselves but dissolved their individual natures into a communal pool of creative consciousness. That's something you can't imagine many of today's artists doing, given the market's relentless demand for apparent originality. There's something sad about that.