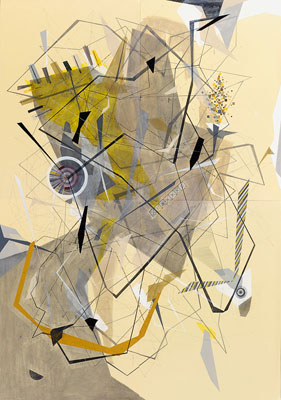 "Tzangrine: The Mechanics of Velocity and Lust" by Danielle Tegeder is featured in the show, which runs through Sept. 7.

May 30, 2008
Where Have All the Paintings Gone? To the National Academy
By KAREN ROSENBERG
If you emerged from the Whitney Biennial wondering where all the painting went, don't despair. An alternative view of the state of contemporary art can be found at the National Academy's annual exhibition. This year's show is a non-member affair (alternate years are members-only), which means that it is about as lively as a juried exhibition organized by committee can be.
At "The 183rd Annual: An Invitational Exhibition of Contemporary American Art," abstract painting reigns, sculpture is small and nonthreatening, and photography is practically nonexistent. This is not quite the art world memorialized in the current show "Action/Abstraction" at the Jewish Museum, but the critics Clement Greenberg and Harold Rosenberg would find plenty to argue about in paintings by Pat Lipsky, David Reed and Eve Olitski (daughter of the painter Jules Olitski).
As often happens at the Whitney Biennial, a few galleries (Priska C. Juschka, Max Protetch and Sikkema Jenkins, among others) are represented by multiple artists. This makes the show feel clubbier than it ought to, considering that the roster of 130 artists was winnowed down, by a seven-member committee, from a list of more than 400 nominees.
The conditions of display are far from ideal. A lavish self-portrait by Julie Heffernan competes with a psychedelic abstraction by Barbara Takenaga; Sean Scully's earth-toned rectangles clash with acid-hued floating asteroids by Leah Montalto. All of these works, on their own, merit attention.
Scale seems to be the only organizing principle. In her catalog essay "Size Does Matter," the exhibition coordinator, Nancy Malloy, notes that the artists in the show gravitate to the petite or the monumental. The installation groups works of similar size, a strategy that suits the museum's mix of large and small spaces but rarely shows the art to best advantage.
In particular, the clustering of smaller works leads to a surfeit of preciousness. Jenna Gribbon's neo-Surrealist vignettes and Matthew Northridge's minuscule cubes of painted wood might be standouts elsewhere, but they are ill served by the cluttered layout. Cutesiness appears to be the desired effect in JoAnne Carson's fiberglass sculpture of a Shrek-like creature and Janet Cynthia Carlson's gouache of cartoonlike figures on a crazy-quilt background.
In many of the galleries sculpture provides a much-needed focal point. Saint Clair Cemin's "Supercuia" (2006), a stainless-steel ball with multiple breastlike protuberances, could be the spawn of Jeff Koons's "Rabbit" and the Venus of Willendorf. Also notable are Ming Fay's "Jungle Dangle" (2008), a pendant of botanically shaped forms, and Linda Ganjian's "Avestan," a sprawling floor sculpture of paper cutouts inspired by an ancient Persian alphabet.
Delicacy proved to be a liability for an ethereal sculpture by Maria Elena Gonzolez, "Whitewash Tower," which was damaged in transit; for the moment the artist has replaced it with "Grill Cross Box" (2005), an even more fragile-looking work consisting of a fluorescent light box adorned with strings of glue.
Site-specific projects, the bread and butter of the Biennial and other large group shows, are a relatively new concept here. Lisha Bai's linoleum floor fills a second-floor foyer with an op-art pattern of black and white squares. Near the fourth-floor elevators, Soo Sunny Park has installed "Fractal Immersion"; viewers peer through honeycomblike openings in layers of drywall, mylar, aluminum and paper. Both are snazzy, but they do nothing to dispel the suspicion that the academy recognizes installation art only when it defers to painting.
One of the themes of recent annuals is the battle of gestural versus geometric abstraction. At this year's show geometry prevails. Danielle Tegeder's painting "Tzangrine: The Mechanics of Velocity and Lust" evokes early Duchamp and Italian Futurism with a dynamic group of angular forms linked by thin lines. Ben La Rocco paints symmetrical compositions that resemble race car graphics, while Derek Leka channels Peter Halley's cells and conduits.
Not everything in the exhibition is so shiny and glib. The painters Eric Holzman, Colleen Randall and Stanley Lewis favor a thick, resolutely un-trendy impasto. The sculptor Leonardo Drew exhibits a series of rust prints in weathered frames, depicting the exteriors of run-down buildings. The New Orleans artist Willie Birch's pair of charcoal drawings, "The Aftermath of Katrina" (2007), is one of the show's few bids for social relevance.
Original, boundary-breaking concepts are scarce, but interesting and varied techniques abound. Sungmi Lee tints clear plexiglass with incense smoke, producing a black plume that seems to dissolve into the wall. Dana Melamed creates three-dimensional cityscapes on paper by dipping film-printing waste into acrylic and glue, melting it with a torch and incising it with a razor.
Love them or hate them, the Academy's annuals can seem like the art world's last line of defense against the forces of youth, attitude and the market. That defense might be strengthened by a tighter display and a more relaxed definition of art.
"The 183rd Annual: An Invitational Exhibition of Contemporary American Art" continues through Sept. 7 at the National Academy Museum, 1083 Fifth Avenue, at 89th Street; (212) 369-4880.