April 1, 2015
Painter Karla Wozniak Considers the Politics and Language of the Land Around Us
by S. Heather Duncan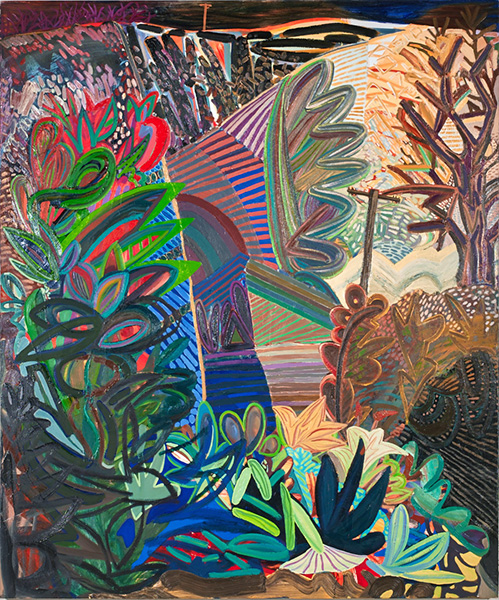 Gaze out your car window from the passenger seat and you will see the landscape that inspires Knoxville painter Karla Wozniak.
You'll see it. But you probably won't notice it. That's because it isn't a broad landscape of pastoral farms or majestic mountain views. It's Weigel's, Arby's, and cheap motels. And lately, the kudzu.
"I've always been interested in painting boring things," says Wozniak, a University of Tennessee assistant professor. "It's such a challenge."
But you might not recognize these mundane landmarks in her paintings, which over the last five years have become more abstract. Most are painted on canvases four to six feet across, layered in hectic swirls of aggressive, psychedelic color. They are featured in the Contemporary Focus exhibit at the Knoxville Museum of Art through April 19.
A native of Berkeley, Calif., Wozniak says her broad travels have reinforced her interest in landscapes. (Her degrees are from Yale and the Rhode Island School of Design; she held an art fellowship in Italy and taught at the Pratt Institute in New York.)
"Living in New York got me thinking about American patterns of development," she says. "I became interested in the politics of landscape and why cities look the way they do."
She also enjoys "reading the landscape"—literally. She began painting signs as a way to consider language when it's surrounded by objects: trees, power lines, roads. Do you read the words first, or see them as color and texture? Wozniak's paintings reflect the "build it cheap and tear it down" aspect of our culture, but she adds, "Part of it is just the magic of the road."
In the last year, Wozniak has been driving in a different direction, partly because she now lives so close to the sprawl that she's less inspired by suburban roadside clutter. The world outside her car window these days is a hillside draped with kudzu or the synchronous fireflies of Elkmont. These paintings are a contradictory jungle—raw and untamed, yet wearing the pastel colors of artificial plants or echoing textile patterns. Her "Kudzu Hillside" painting at KMA is full of busy, bouncy lines, bright in the middle but surrounded by darker, foreboding shapes.
Wozniak often begins by taking photos of the same subject from many angles before merging and re-imagining them. She may develop the idea using watercolor on paper before moving to oil on canvas, but the two pictures often diverge considerably. The KMA show includes 10 small watercolors such as "Zig Zag Underground," a painting bisected by a dark, jagged line, like a seismograph, dividing the snowy surface from underground rock layers. Nearby is the large, brighter oil painting that followed, "Under the Mountain." Its more abstract, rounded forms hint at the life waiting to emerge from beneath the snow in spring.
Wozniak starts with a thin wash of color, then works over it repeatedly with other paints. The wash shows through in some areas, while in others the paint is thick and goopy. Sometimes she picks up an oilbar, like a giant crayon, and draws on the canvas.
"It's a chain reaction where I end up making a painting that I never thought I would make," she says. "I like to be surprised."
She spends a lot of time sitting across her long studio from a painting, just gazing at it. She's digesting how the colors affect each other. She's mulling how to organize the chaos to give the viewer's eye a place to rest. But don't misunderstand. Wozniak is not cutting anyone a break. These landscapes have bite.
"Color is so powerful," she says. "It's really beautiful, but also kind of hard to look at, aggressive and fierce."
If you've ever wandered off-road into the kudzu during the summer, when you can practically hear it growing seven feet a night, you know what she means.