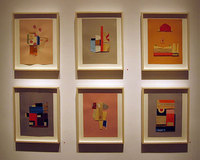 one bright day in the middle of the night - 12/17/05
Chris Corales at Gregory Lind Gallery
Runs: December 14-January 21, 2006
By John Casey
Chris Corales is a natural artistic hunter-gatherer. He drives a truck for San Francisco's Community Thrift Store on Valencia, where he picks through the recycling refuse of boxes and paper discards that formerly contained donations to the store. He gathers his findings and carefully assembles them into art. His current show at the Gregory Lind Gallery initially appears to be an understated collection of small abstract works. Closer inspection reveals an array of, in most cases, carefully constructed assemblages and collages made from these recycled materials.
In spite of their non-objective subject matter, the works have an intimate feeling due to the inherent wear-and-tear of the materials used. Among the elements, small wrinkles and dents in the cardboard and the aged patinas of old fabric-covered box tops reveal the previous quiet life of storage boxes, relegated to holding mementos, scalloped-edged photos, old hats, and mink stoles—boxes occasionally interrupted by a rifling search. These previous histories are juxtaposed next to each other to create an abstract narrative.
There is play between the various shapes and colors that seems simultaneously casual and delicately considered. The variety of textures in the materials conveys volume and a strong sense of space between the foreground and background shapes. Although the color palette is predetermined by the found nature of the materials, the choice of placement is in itself a challenging skill, but Corales makes it look easy.
Some works suggest architecture; a few seem almost figurative. A larger installation of materials appears in a corner. Although somewhat jumbled and confusing, this use of space is promising, given a bit more definition and focus.
Chris' bio mentions that he is self-taught. His work alludes to modern geometric abstract artists such as Piet Mondrian, Fernand Léger, and Stuart Davis. Whether Chris has studied art history or sees his work as part of a continuing abstract tradition is unimportant. The art is restrained but not self-conscious, playful in the process yet sophisticated in the result.