September 18, 2014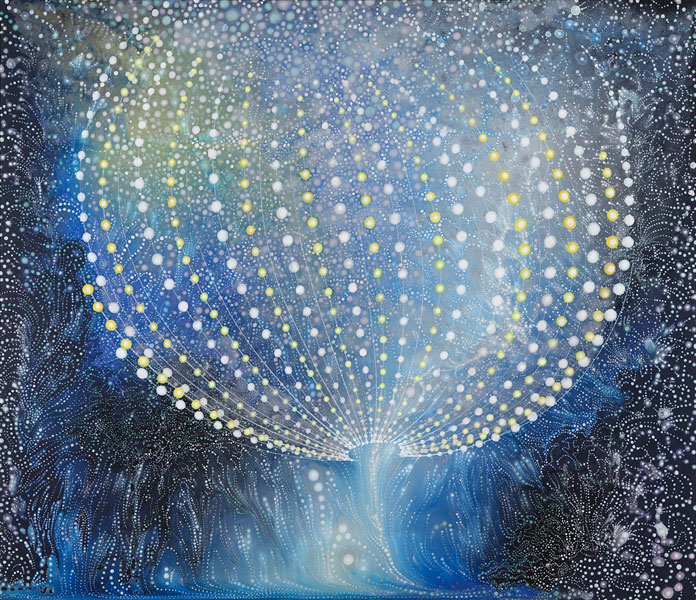 Barbara Takenaga paints cosmic, pattern-rich abstracts, such as 'Icy Blue.'
Barbara Takenaga abstracts combine science, magic
Abstract artist Barbara Takenaga paints landscapes, or perhaps mindscapes, containing strings of dots that might be either biological cells or intergalactic pearls, among other actual or imagined phenomena of the inner or outer cosmos. Long known for bringing a disciplined, detailed approach to her patterns, Takenaga retains her painstaking process in a new series, on view through Oct. 18 at Gregory Lind Gallery in The City. At the same time, she lessens her familiar symmetry and expands her embrace of randomness and variation. Lind, who has represented Takenaga since 2003, describes her as a committed artist whose achievement with paint is rare in the contemporary scene. 'In an age where there is so much emphasis on photography and video to transport us to unknown worlds, both real and imaginary, her ability to depict complex systems of intricately painted patterns simultaneously between the micro and macro world and the dichotomy between observable and imaginary worlds is quite extraordinary,' Lind says, adding, 'For me, Takenaga's paintings combine science and magic.'
Takenaga's influences over the years have included Asian textiles, mandalas, the Renaissance paintings of Fra Angelico, and the prearranged constructions of abstract and conceptual artist Sol LeWitt.
Not one for emotive brushstrokes, Takenaga, a former printmaker, applies paint elegantly and meticulously.
The current show, Takenaga's sixth solo exhibit at the gallery, contains 10 acrylic works by the artist, whose style combines decoration, geometry, biology, cosmology and psychedelia.
Viewers might see real-world subjects in her abstract imagery, whose ambiguity allows for Rorschach-like interpretation. The voids inhabited by the forms contain tiny splatters suggesting random and accidental action.
In 'Red Funnel 2' (42 by 36 inches, acrylic on linen), an object resembling a vermillion tornado, or an aerial mushroom, or a satellite dish dazzled by an otherworldly signal, inhabits a fire-colored expanse. White, red and orange dots delineate the form, which suggests transitory activity against a backdrop of permanence.
In 'Icy Blue' (36 by 42 inches, acrylic on wood), a sea-urchin-like creature, or a hot-air balloon, floats in an aqua environment. Vertical strands of white and yellow beads, cosmic hailstones perhaps, make up its surface pattern. Lacy swirls of tinier dots, along with vaporous-looking areas of the titular hue, fill the background.
From a similar universe comes 'Twins,' a smaller, more expressionistic picture featuring two purplish orbs in a sea or sky where less-formed, feathery material drifts.
Takenaga lives and works in Williamstown, Mass., and in New York City and teaches at Williams College. Her work has also been exhibited at the Pennsylvania Academy of the Fine Arts, Philadelphia; the Museum of Contemporary Art, Denver; the San Jose Museum of Art; and the National Academy Museum, New York.