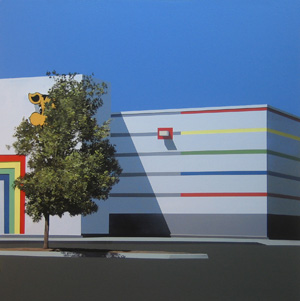 Idaho Falls, 2006
acrylic on panel
36 x 36"

San Francisco: CRITICS' PICKS
Jake Longstreth
GREGORY LIND GALLERY
49 Geary Street
December 15 - January 27
You don't have to travel far from urban America to encounter the nation's most ubiquitous landscape: flatlands and franchises, seemingly self-replicating big-box stores, stucco-faced supermarkets, and vast asphalt parking lots. There's an empty horror to all this corporate homogeneity, yet an odd comfort in the convenience, familiar signage, and faux-European architecture. With nods to Robert Bechtle's desolate suburban vistas and Ed Ruscha's road- and billboard-inspired works, Jake Longstreth's acrylic-on-panel paintings capture our ambivalence toward these liminal sites. In Idaho Falls (all works 2006), the subject is a rainbow-trimmed superstore and its flat, cubic geometry (only identifiable as a Toys 'R' Us from the friendly giraffe peeking from behind a lushly rendered tree in the otherwise empty parking lot). The contrast between consumer culture and developer-tailored nature is a recurrent theme. In the brand-free strip-mall view in Vacaville, a moat of landscaping (channeling a Hockney-esque palm-and-lawn-in-the-desert opulence) shields a gleaming white late-model pickup. Longstreth is interested in the way we accept these sites at face value. In Think Tank, he depicts a low-slung office building overlooking a body of water; in Indianapolis, a roadside church with a spiky spire-immediately recognizable forms that here exude a convincing, stoic beauty.
-Glen Helfand