Don Voisine at Gregory Lind Gallery
At Gregory Lind Gallery through October 20th, Don Voisine's second solo show exhibits a new series of paintings that explore and experiment the both the boundaries of the medium and of painting's surface and perimeters by central expanses of overlapping black rectangles against white fields, bound above and below by elemental color bands. The complex yet subtle interaction between transparency and opacity, as determined by the density of paint, works to activate a dynamic and constantly fluctuating visual field.
Don Voisine: Paintings at Gregory Lind Gallery
With an introduction of complex angles to this body of work, the pictorial planes' geometries and form evoke an interminable depth with dynamic movement. Voisine's paintings recall the work and theories of predecessors like Kazimir Malevich and Hard-Edge paintings. Chiefly comprised of geometric forms which appeared to float against a white background and based on fundamental geometric forms, Malevich's black paintings that pioneered the Suprematism movement in the early twentieth century and gave way to the Hard Edge genre were some of the first abstract artworks of the modern era that purely engaged with the aesthetic nature of painting, concerned only with the object's form and free from outright political or social meanings. Malevich stressed the purity of shape, particularly of the square, an art based upon "the supremacy of pure artistic feeling" rather than on visual depiction of objects. Although Voisine's works may be concerned with form and painting, they however may not necessarily align with an anti-materialist, anti-utilitarian philosophy.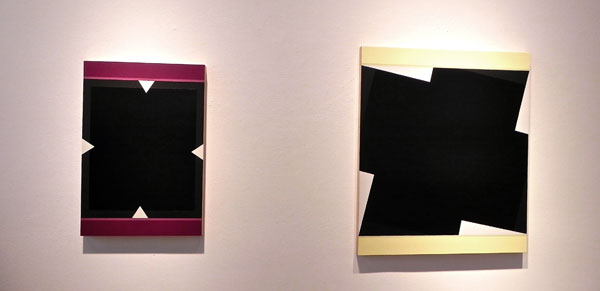 Don Voisine, "Chamber" (Left) and "Mill" (Right) at Gregory Lind Gallery
The paintings' overlapping multilateral geometries exacerbate their layered and sculptural quality by the varying opacity and complex arrangement within the boundaries set by the colored bands above and below. Glossy surfaces juxtaposed with matte, varied shades of black upon one another in complex angles burst from the boundaries of these primarily simple, small square wood panels. Spatial illusions create a paradox of movement interspersed with negative and positive space. Voisine explains this is not only sculptural but also references his acute interest in architectural quality in painting both as a practice and as the finished work: "Architecture – a language of space – delineates boundaries, exposes points of access, exit or entry, and enables the user to interact with the structure of a defined space. This simple vernacular of architecture informs my paintings. Working with symmetry and a standardized format to reduce variables, I establish borders on all planes. Color activates an apparent void; a reflective surface opens a window into the painting, both mirroring and obscuring the view." Titles like "Chamber," "Scene," "Slide" and "Mill" reflect the artist's investigation into larger architectural concepts, particularly movement within a seemingly static medium. Spatial illusions create this paradox: interacting with negative and positive space.
<! FOOTER > <! END FOOTER >