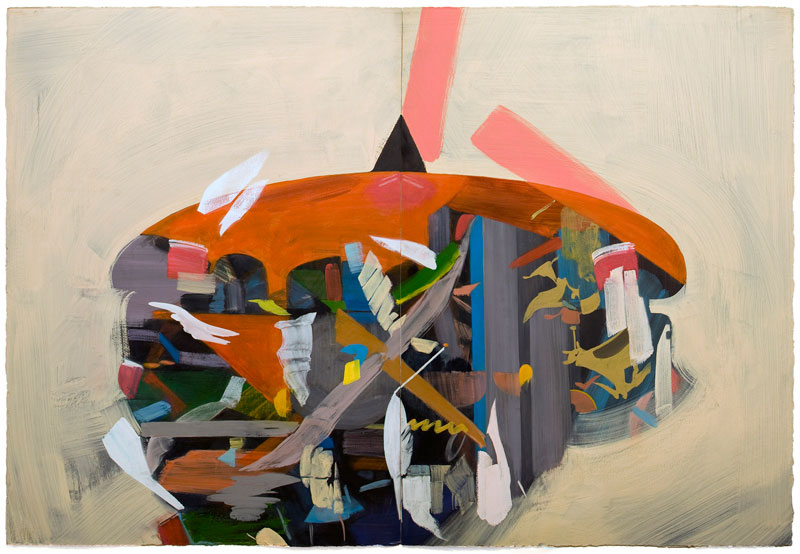 Rat King, 2012
Oil on paper (diptych); 30.25 x 44 in.
This exhibition will be accompanied by a catalogue with an essay written by Joseph Akel.
Jim Gaylord
Skipping Over Damaged Area
November 1 – December 22, 2012
Gregory Lind Gallery is pleased to present Skipping Over Damaged Area, a solo exhibition of new paintings and works on paper by Jim Gaylord. This is the artist's third one-person show with the gallery.
Gaylord's source materials are stills collected from film and television. The images are selected on a purely formal basis, chosen for their abstract appearances. In contrast to his previous work, the recent exhibition omits all traces of representation. Cinematic distortions resulting from quick camera pans, rapidly moving objects and special effects yield forms that are specific, yet just beyond the grasp of recognition. Taken out of their original context, these objects exist in a limbo state with the potential to become many things, never committing to a singular conclusion.
The title of the exhibition refers to the error message that appears when a DVD malfunctions and the player skips over the unreadable section of the disc. These areas remain unseen by the viewer and are lost and inaccessible. Similarly, the moments from which Gaylord's sources are extracted pass by unnoticed by the naked eye, and would only be perceived when viewed frame-by-frame.
Gaylord layers several of these source stills together on top of one another digitally, creating studies on which the final pieces are based. The sources offer no direct links to the works except in a compositional sense, and are essentially treated as elements in a collage. The process of collage is most visibly demonstrated by the paper cutouts in the exhibition. Each individual shape is cut from paper, painted and then glued in place. The result retains a three-dimensional quality as certain elements jut out from the picture, creating an almost sculptural, relief effect.
In all of the works, the articulation of each form—whether a paint-streaked surface or carefully cut out paper—describes a particular phenomena of time and motion, while giving concreteness and permanence to fleeting traces of human action.
Jim Gaylord received his MFA from the University of California, Berkeley, and a BA in Film from the University of North Carolina, Greensboro. He completed an artist residency earlier this year at the MacDowell Colony in Peterborough, NH. Gaylord's work has been shown internationally, including solo exhibitions at Jeff Bailey Gallery, New York; AMT Gallery, Milan; and the University of Pennsylvania. He received a Fellowship in Painting from the New York Foundation for the Arts in 2008 and an MFA Grant from the Joan Mitchell Foundation in 2005. His work is in the collections of the Museum of Modern Art, New York; Progressive Art Collection, Ohio; and the West Collection, Pennsylvania. Gaylord lives and works in New York.
EXHIBITION IMAGES - CLICK FOR ENLARGED VIEW
- BACK TO TOP -