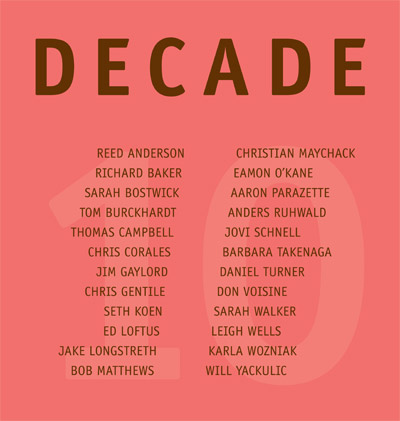 DECADE

July 5 – August 31, 2012

OPENING RECEPTION:
Saturday, July 14 (3-6 PM)
Gregory Lind Gallery is pleased to celebrate its tenth anniversary with a group show comprising 24 artists represented by and affiliated with the gallery. The show features new work by artists who have been exhibited at the gallery throughout its history, many of whom have gained national and international renown since the gallery's inception in 2002. On exhibit will be work in a variety of media, from painting and drawing to wood, paper cuttings to mixed-media sculpture.
Decade honors the achievements of its artists and encompasses the gallery's commitment to evocative and challenging visual art. This exhibition continues fresh dialogue around issues of common concern in contemporary art practice. As a multifaceted dissection of both craft and concept, every individual work presents perception as a simultaneously mutable object and unfolding process. Decade's artists each construct a unique promontory from which to witness worlds both tactile and imagined, and offer vivid visual lexicons that are invested in current cultural commentary, time-honored technique, and conceptual innovation.
Participating in the gallery's 10-year celebration are Reed Anderson, Richard Baker, Sarah Bostwick, Tom Burckhardt, Thomas Campbell, Chris Corales, Jim Gaylord, Chris Gentile, Seth Koen, Ed Loftus, Jake Longsteth, Bob Matthews, Christian Maychack, Eamon O'Kane, Aaron Parazette, Anders Ruhwald, Jovi Schnell, Barbara Takenaga, Daniel Turner, Don Voisine, Sarah Walker, Leigh Wells, Karla Wozniak, Will Yackulic.
EXHIBITION IMAGES - CLICK FOR ENLARGED VIEW
- BACK TO TOP -