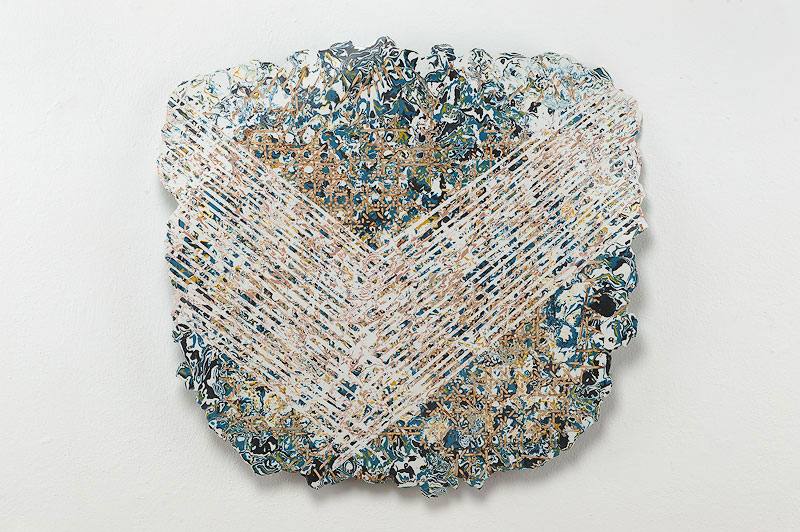 Compound Flat #8, 2011
Magic sculpt, chair caning, and wood
18 x 19 x 2.5 inches
Christian Maychack
Uncertain Spaces
May 3 – June 18, 2011
Opening reception: May 5, 5:00 - 7:30 pm
Gallery hours: Tuesday through Saturday, 11-5:30 PM
Gregory Lind Gallery will present, "Uncertain Spaces," new work by Christian Maychack, whose sculptural pieces challenge the normative relationships between object, pictorial space, and spectator.  Maychack's most recent body of work - both wall and large-scale floor pieces - is assembled from pigmented and marbleized Magic-Sculpt, combined with woven wood and caning.  Using these materials to create objects that hover between sculpture and painting, Maychack's work explores the distinction between the two, as boundaries dissolve and objects seem to decay.
Maychack's previous works were typically suggestive of functional objects and architecture, while his latest work is a nod to the manner in which humans have become adept at navigating the continuum between the functional, physical space and abstract pictorial space.  The nexus of these two spaces is the intricate weavings of baskets and chair caning, both found and hand-woven by the artist.  The visual patterns and the physical structure of the woven pieces supply both the framework of the physical piece and the visual field observed by the viewer.
Maychack's work interrogates craft as an extension of a biological drive that transcends our bodies and has no strict boundaries.  In this sense, the presented works are an extension of the genetic need for both play and order, and a simultaneous reference to the crafted and primal nature of construction.  The familiarity of baskets and caning highlights the overturned functionality of the objects that comprise the sculptures.
The sculptures are formed by molding resin onto both sides of a piece of chair caning or basket. Maychack then selectively excavates the woven pattern in places by sanding, and then inlays those exposed spaces with line and form. The polished satin finish lends an illusionistic quality to the completed pieces, evoking the patina of a photograph or painted surface. This interplay between the object and the pictorial calls the viewer's attention to the perpetual fluctuations between illusionistic space and physicality.
Christian Maychack was born in upstate New York and lives and works in Brooklyn, NY. He obtained his MFA in Studio Arts from San Francisco State University. His recent exhibitions include, Jeff Bailey Gallery, New York, NY; the California Biennial, Orange County Museum of Art, Newport Beach, CA; and Grimm Rosenfeld Gallery, Munich, Germany. Distinctions include, a Residency at Skowhegan School of Painting and Sculpture (2008); Residency at the Headlands Center for the Arts, Sausalito, CA (2006); as well as a Residency at the Sirius Art Center, Cobh, Ireland (2005). His work has been reviewed in Artforum, Art in America, ArtNews, Sculpture Magazine, Art Ltd, Artweek, San Francisco Chronicle, and San Francisco Bay Guardian. This is the artist's third solo show at Gregory Lind Gallery.
EXHIBITION IMAGES - CLICK FOR ENLARGED VIEW
- BACK TO TOP -