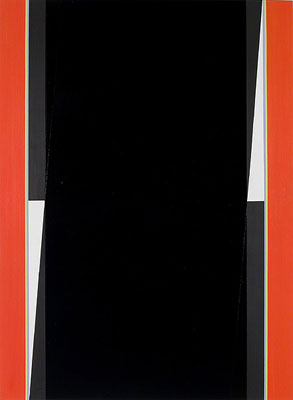 Don Voisine
Paintings
November 4 - December 23, 2009
Gregory Lind Gallery is pleased to present a series of oil paintings on wood by New York artist Don Voisine, whose work is defined by its exceptional nuance, sophistication, and reductive visual aesthetic. Distinctively architectural in style, Voisine's pieces consist of central expanses of overlapping rectangles or squares painted in black and set against white fields. These hard-edged forms are bordered top and bottom or left and right by vibrant bands of contrasting colors of varying width. While the surfaces of his pieces are smooth, they are also not entirely uniform, as the interplay between transparency and opacity manufactured by the variance of paint density is always at work with his visual planes.
Voisine's pictorial planes connote a meditative self-containment that renders Voisine's images almost sculptural and object-like. His aesthetic lexicon is one that is both formal and rigorous with its adherence to strict geometries, but it is also deeply refined and meditative in its evocation of empty or deep space, as well as movement. Voisine's works are unvarnished and rectangular or square in shape, while the shapes within the paintings are also rectangular, square or rhombi. The works are composed on flat surfaces that offer no traditional perspective, thereby creating the illusion of endless depth. Despite Voisine's restricted palette and compositional consistency, his work evinces an enormous amount of freedom within constraints, in facets such as weight, tone (in working with varying grades of color, such as matte charcoal black, deeper carbon black, and shinier black surfaces), direction, and spatial illusion.
Don Voisine attended the Portland School of Art and Concept Center for Visual Studies in Portland, ME. He received an honorary BFA from the Maine College of Art in 2000. His recent exhibitions include McKenzie Fine Art, New York; Icon Contemporary Art, Brunswick, ME; and Metaphor Contemporary Art, Brooklyn, NY. His recent group exhibitions include "New From Hamburg, New York, Berlin," pp projects, Hamburg, Germany; "Planes of Abstraction," Center for Maine Contemporary Art, Rockport, ME; "Escape from New York," Project Space Spare Room, RMIT University, Melbourne, Australia; and "Minus Space," P.S. 1 Contemporary Art Center, Long Island City, NY. His work has been written about in The New York Times, Village Voice, and Chicago Tribune. Collections include Cincinnati Art Museum, OH; Peabody Essex Museum, Salem, MA; and the Joel and Lila Harnett Museum of Art, University of Richmond Museum, VA. He lives and works in New York.
EXHIBITION IMAGES - CLICK FOR ENLARGED VIEW
- BACK TO TOP -