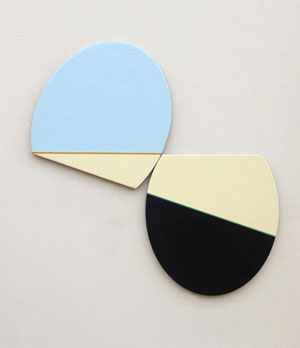 Aaron Parazette
Color Key 2, 2009
Acrylic on linen 21 x 20 in.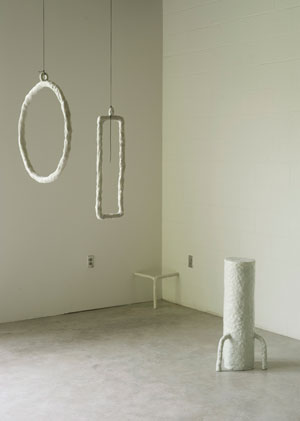 Anders Ruhwald
Glazed ceramics, 2009
Aaron Parazette: "Air Drop" - Paintings
Anders Ruhwald: "Almost Nothing" - Sculpture
September 10 - October 24, 2009
Gregory Lind Gallery is proud to present two exhibitions that explore the inherent figurative gestures in unusual forms, textures, and colors: Aaron Parazette's "Air Drop" - Paintings, and Anders Ruhwald's "Almost Nothing" - Sculpture.
The "Air Drop" series features Houston-based artist Aaron Parazette's recent Color Key paintings. This series continues an earlier investigation using uniquely shaped panels combined with vividly colored geometric abstractions. The shaped nature of the paintings calls to mind the work of Ellsworth Kelly, Frank Stella, and Robert Mangold, as well as the dense world of signs throughout urban landscapes. These paintings also continue with Parazette's signature interest in color and craft, channeled through the material, mathematics, and mechanics of painting.
Aaron Parazette was born in Ventura, California and holds an MFA in Painting from the Claremont Graduate University. Solo exhibitions include "All On Up," Marlborough Gallery, Chelsea, New York, 2006; "Drive Thru," The Suburban, Chicago, 2005; and "Project Space," ARCO International Contemporary Art Fair, Madrid, Spain, 2005. His two-person and group exhibitions include "More Than Words," Von Lintel Gallery, New York, 2008; "Blurring the Line," University of Texas at San Antonio, 2006; "Restless," Glassell School of the Museum of Fine Arts, Houston, 2005; and "Conversagence," Gregory Lind Gallery, 2004. Parazette's distinctions include a National Endowment for the Arts Fellowship and an Artadia Fund for Art and Dialogue Award. His work has been reviewed in various publications, including Art in America, Art News, Art Papers, The New York Times, Los Angeles Times, and San Francisco Chronicle. This is his third exhibition with Gregory Lind Gallery. Parazette lives and works in Houston.
Danish-born Anders Ruhwald's Almost Nothing is made up of ceramics that evoke the familiarity and domestic environments of utilitarian objects. Ruhwald toys with functional forms to articulate nuanced themes that resist simple consumerist interpretations and the restrictions of a purely aesthetic vocabulary. Ruhwald's objects linger on the brink of material culture and are situated on the periphery of ceramic discourse. Overall, Ruhwald's work points to the subtle liminal realms between textures, colors, and ideas.
Anders Ruhwald was born in Denmark and graduated from the Royal College of Art in 2005. Solo exhibitions include the Museum of Art and Design, Copenhagen and galleries in New York, Chicago, Stockholm, Copenhagen, and Brussels. His work is represented in the collections of the Victoria and Albert Museum (UK), the National Museum of Decorative Art (Norway), the National Museum (Sweden), the Museum of Art and Design (Denmark), and several other public and private collections around the world. He was awarded the Sotheby's Prize in the United Kingdom in 2007 and the Annie and Otto Detlefs Prize in Denmark in 2005. His work has been featured in The Guardian, Financial Times and Sculpture Magazine. Ruhwald has lectured and taught at many universities and colleges across Europe and North America. Currently, he is the Artist-in-Residence and Head of the Ceramics Department at Cranbrook Academy of Art in Bloomfield Hills, Michigan. Ruhwald lives and works in Detroit and London.
EXHIBITION IMAGES - CLICK FOR ENLARGED VIEW
- BACK TO TOP -