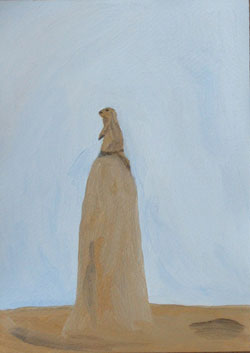 A Serious Paradise
featuring Jane Callister, Yuko Murata,
Jason Middlebrook, Claire Sherman
Curated by Patricia Maloney
July 5 - August 18, 2007
I was made at right angles to the world/and I see it so. I can only see it so./I do not find all this absurdity people talk about./Perhaps a paradise, a serious paradise where lovers hold hands and everything works./I am not sentimental.
- From Keaton by Elizabeth Bishop
Gregory Lind Gallery is pleased to present A Serious Paradise, an exhibition featuring work by four artists who conflate the utopian with the quotidian in their highly stylized landscapes. Jane Callister, Jason Middlebrook, Yuko Murata, and Claire Sherman construct vistas that veer between ready recognition and fluid abstraction; contrasting exuberant approximations of form against more straightforward, unadulterated terrains. While producing visually disparate work, the selected artists all mediate the tensions between culture and nature, infusing their landscapes with humor and solemnity, pathos and pleasure.
The exhibition's title is taken from the last stanza of the poem Keaton by Elizabeth Bishop, in which the narrator envisions a refuge where "everything works." The included artists foreground the material qualities of drawing and painting, with particular attention to surface, form, and color. While acknowledging current and future ecological uncertainties, they present visions of Arcadia that are neither ruinous nor untouched. Instead, they create new idylls that are perhaps idealized in intent, yet formally rigorous and anchored in the physical world. One is drawn into the fantasy of these places, and intuits their plausibility - understanding how, within these landscapes, everything works.
About the Curator:
Patricia Maloney has curated and written for numerous exhibitions, including most recently The Searchers at White Box in New York; I is We: The Garage Residencies as part of Anti/Social at Mission 17 in San Francisco; Open Network: Brooklyn at Ampersand International Arts in San Francisco and Firmament at Ampersand and Turpentine Gallery in Reykjavik. She has worked as a Curatorial Assistant for the Matrix Program at the UC Berkeley Art Museum and at the Mori Art Museum in Tokyo, and as a Program Associate for the International Program of MoMA in NY. She lives and works in Berkeley, CA.
- TOP -
EXHIBITION IMAGES - CLICK FOR ENLARGED VIEW