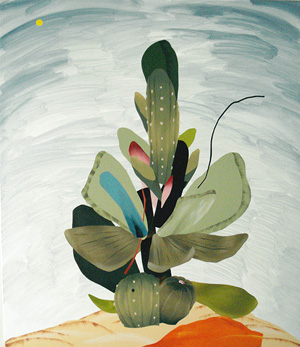 Mark Mulroney
What fits in your mouth
doesn't always fit in your stomach
April 4 - May 12, 2007
Gregory Lind Gallery is pleased to present What fits in your mouth doesn't always fit in your stomach, an exhibition of drawings, paintings, collages and sculpture by Bay Area-based artist Mark Mulroney.
Mulroney draws inspiration from both ancient and contemporary figurations of desire. The desert functions as a primeval symbol of escape and meditative fulfillment, but it also brings to mind mirages in an oasis, which tantalize a viewer only to deprive them of their object of desire in the end. Mulroney deftly exploits this trope, in addition to phenomena that range from the Internet to food, in order to outline the complex interplay between illusion and revelation.
The beautiful refuse that Mulroney dredges up in his work is a virtual, cautionary offering-up of the temptations inherent in our culture, as well as the absurdity that attends them. In considering our plethora of options-for consumption, entertainment, and preferred obsessions-we are asked to consider what should be consumed, and what should be left alone. In Mulroney's eyes, the work is "a clunky vision of what happens if we forget that just because we can, doesn't mean we should."
Mark Mulroney received his MFA in Studio Arts from the University of California, Santa Barbara. Mulroney's recent exhibitions include Elemental Tangents, Cal Poly San Luis Obispo University Gallery, San Luis Obispo, CA, 2007; A Schizophrenic Collapse, Mixed Greens, New York City, NY, 2006; Recent Acquisitions, Museum of Contemporary Art, San Diego, CA, 2006; F(acts)igures, Staatsliedenbuurt, Amsterdam, Netherlands, 2006; and The Beast at Finesilver Gallery, Houston, Texas, 2006. A lecturer at the San Francisco Art Institute, Mulroney lives and works in Berkeley, CA.
- TOP -
EXHIBITION IMAGES - CLICK FOR ENLARGED VIEW