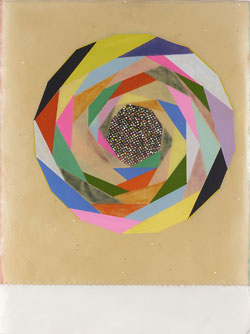 The Beginning. The Middle. The End.
New work by Chris Duncan
September 4 - October 13, 2007
The work of Oakland-based artist Chris Duncan is invested in concepts of process, transformation, and reduction. Duncan, who is known for his exquisitely intricate string sculptures, bridges the gap between the ephemeral and the eternal in a compelling commentary on the nature of human existence. Duncan literally examines the visible (and invisible) threads between nature, science, and the spirit by condensing images and ideas into discrete, yet overwhelming, parcels of information.
Duncan's latest series of paintings, sculpture, and installation marks the artist's 33rd year. The number 33 is fraught with significance (the 'Christ' year) and, according to ancient texts, signifies a period of abrupt change and challenges. Accordingly, "The Beginning. The Middle. The End." represents three specific life stages and extends from personal happenings to current events. Duncan's new work fuses both personal and political and includes a triptych entitled "World War 3D," which consists of a globe, a cube, and a panel piece that depicts the earth in apocalyptic chaos-symbolized by clusters of concentrated dots. He also bridges current events with personal milestones by drawing a connection between the 33 people murdered in West Virginia earlier this year and the artist's own years on this earth.
With a nod towards Op Art and psychedelics, Duncan uses abstraction and relationships between colors as a metaphorical approach to his themes, building on the color theory of Mondrian, Albers, and Rothko. All of Duncan's pieces tell a story, but in reducing narratives into more oblique yet visually tangible forms, the artist offers poignant yet intellectually rigorous interpretations of the essential nature of form and structure. For the first time, Duncan will incorporate music into his installations, with a live performance by San Francisco-based duo Pale Hoarse. To commemorate the event, a limited-edition vinyl LP will be released on Duncan's record label, The Time Between the Beginning and the End.
Chris Duncan holds a BFA from the California College of Arts and Crafts, and is the co-creator of the art-based zine, Hot and Cold. His recent exhibitions include Kults, Werewolves and Sarcastic Hippies, Yerba Buena Center for the Arts, San Francisco, CA; The Continued Exploitation of Pink and Brown, Jeff Bailey Gallery, New York, NY; The Playing Field, Nakaochiai Gallery, Tokyo, Japan; Dark Times, Motel Gallery, Portland, OR; and Variegated Radiant Dream Plot, Gregory Lind Gallery, San Francisco. Duncan has been featured in publications such as Art in America, Artweek, Art on Paper, K-48, McSweeny's, and The New York Times. His distinctions include a Goldie Award for Visual Art, 2006. Duncan lives and works in Oakland.
- TOP -
EXHIBITION IMAGES - CLICK FOR ENLARGED VIEW